Let me start this first post in a series on my 'tools of the trade' by reassuring readers that Gina isn't an actual person who follows me around on digs, barrowing my spoil away and fetching my tea. Although having thought about it, I quite enjoy being the barrowmonkey, but only because I pretend I'm in the 'Archaeology Zone' of the Crystal Maze, where spilling soil en route results in an automatic lock in and one less person to grab golden tickets (while being serenaded with the harmonica stylings of Richard O'Brien, of course).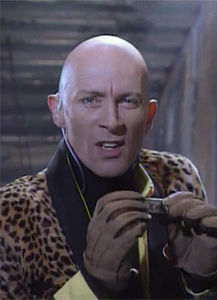 Wait, what?
Inane site-based daydreaming aside, every archaeologist needs transport, as it's not unusual to be digging in a country with third-world public transport and woeful infrastructure – and digging outside of Britain can bring its own automobile annoyances too. The stereotypical vehicle for an archaeologist has to be the trusty old Land Rover Defender. It's built from girders and Blitz Spirit and is capable of tackling far more than the occasional pothole in Tescos car park, which is as close to off-roading as most 4x4s round here get.
Seriously – in my highly scientific study (sample locality: the A4260 Banbury – Kidlington, yesterday), the most common 4×4 in Oxfordshire is the Range Rover Evoque, with the 'just had a skip dropped on it' styling and, I shit you not, low profile tyres. Of course, I'm wildly over-exaggerating for comic effect. No self respecting Evoque owner would be seen dead in Tescos. Land Rover even released a special edition 'Tomb Raider' Landy, and if that's not a ringing endorsement for the archaeological aptitude of this icon of British engineering, then I don't know what is.
*coughs*
However, this is all a moot point for me, for one major reason: cost.
When I decided that it was time for me to pull my finger out and graduate from the eternal limbo of a green licence, I had to choose between a car, or a motorbike. Now, I'd had three lessons in a car when I was 21, but I didn't get on very well with the instructor (on being asked to describe the two types of brake, I responded 'Foot brake for slowing while moving, hand brake for corners') and being completely naive, I didn't expect to be driving through Guildford town centre on my second lesson, on market day. Either I was better at driving than I thought I was, or the instructor just wanted to end the pain of teaching me, quickly.
Fast-forward to 29 and I was still dependent on public transport, and having suffered at the hands of Worst Late Western for several years, I specced up the costs involved in learning to drive versus learning to ride. The clincher for me was how much I'd have to pay the thieving swine   insurance companies – £1020 for a Landy, £990 for a sensible learner car (Micra) and *drumroll* £118 for a Honda CBF125 in my favourite colour, 'Subcontinental Rust'. Ah George, you were the two-wheeled equivalent of a phone call to BT; outsourced, shoddy quality and exceptionally slow to pick up.
However, you always love your first experience of automotive freedom, and George and his mighty 11.3bhp propelled me to my first proper archaeological experience: the 'Town Life Project' at Silchester, run by the University of Reading.
Surprisingly, for a teeny-tiny little bike like the CBF125, it had zero problems at all getting up and down the gravel track to the excavation car park. Admittedly, there was the very real danger of bending the front wheel out of true when running over so much as a pebble, but my faithful steed performed admirably on the sketchy surfaces of the track and the grass field car park. My abiding motorcycle memory of Silchester was waking up to a howling gale and torrential rain at 3.30am one morning, convinced that my flimsy ride would be blown into the car next to it by the fierce winds. Cue me slogging down to the bike and using my spare tent pegs, a fistful of bungee cords and an unlimited supply of alarmingly foul language to stake it to the ground.
George served me faithfully for some time, but all first loves fade in the cold, harsh light of wanting to do more than 60mph downhill with a following wind. I'd been accepted to UCL to study archaeology, and being thoroughly sick of trains and tired of haemorrhaging cash at the ticket office every day, I started scouring the interwebs for a motorway-worthy motorbike. I struck gold in Chichester, finding a Yamaha Diversion from 1995 in mint condition with the gobsmackingly low total of 3,000 miles. Owned by someone who had nearly 30 other bikes, poor Lumpy had languished unloved and unridden in a garage on the south coast. I named him Lumpy due to the sound his engine made the first time the dealer fired him up for me; akin to a sackful of spanners and badgers being kicked down a stairwell.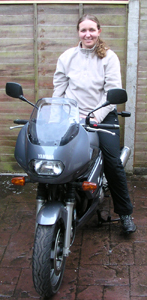 Once I'd replaced the original Yokohama Ditchfinder tyres, which dated from 1993 (!!!), the bike was transformed from a  scrobbly understeering deathtrap to a mile-munching, fun-filtering mean machine. Lumpy babysat me through my first intitial flailing at the coronary-inducing horror that is riding in London and got me up the track to Silchester – not a bad effort for a bike with a belly pan. Sadly, my partnership with Lumpy ended the day I threw him down the road while negotiating a diesel-soaked roundabout. Although the damage was minimal, the steering was a little vague and carb-icing related breakdowns were taxing my AA Membership. Apparently it's not a loyalty card system, so they take a dim view of racking up the call outs. The last time I called the AA, the recovery truck broke down before it got to me. I can take a hint, guys.
And so we come to Gina, my Suzuki V-Strom 650. Named for the colour (see what I did there?), I went for a more upright riding position in an attempt to stave off the inevitable spinal collapse caused by commuting from Banbury to London every day. I've had a thing for V-Stroms since I got into biking, and Gina is comfortable, quick, and has more road presence than either George or Lumpy. Mild offroading is no problem (for the bike, anyway) with dual purpose tyres, bash plate and engine bars. I've been to a few sites so far, exploring Oxfordshire – and upcoming posts will feature various archaeological sites I've been to, starting with the Rollright Stones.
Feel free to leave comments and suggestions – do any of you use your bike for work, and what factors went into choosing your ride?
Til next time,
Heather